We're happy to share the latest release of whitson+, fresh out of the coding oven. There is a lot of new functionality in this release, and we've highlighted the main ones in this short video: https://youtu.be/sS5-6oOdsFo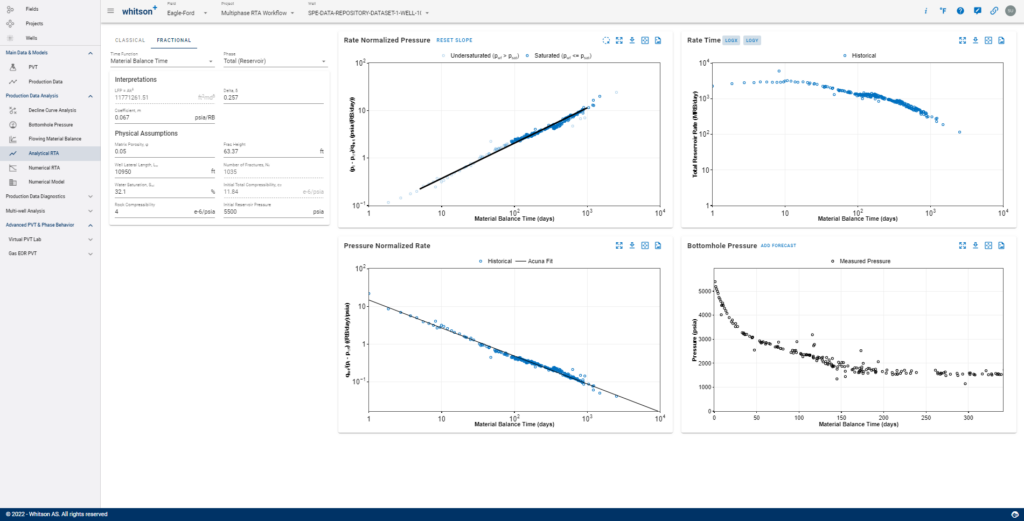 whitson+ – comprehensive software updates list
Numerical Model:

Multi-layer model – be able to assign different petrophysical properties and PVT in the different layers.
Half-bounded well – be able to model a half-bounded well (xf=xe on one side, xf different than xe on other).
Possibility of changing fracture rel. perm. curves.
Possibility of changing rock compressibility.
Possibility to perform multi-segment forecasting.
Forecast option using pressure decrease (psia/d), in addition to hyperbolic function.
Run sensitivities with BHP control (for choke management / optimization).

Bottomhole Pressure:

More artificial lift options – ESP and Plunger Lift.
Simplified input – consolidation of well data and artificial lift options.
Plot – Option to visualize tubing, casing and initial pressure together with calculated values.

Analytical RTA: 

Autofit – automatically pick LFP (slope) and time to end of linear flow (telf).
Multi-well Autofit – Be able to run Autofit on many wells simultaneously.
Fractional RTA option – obtain Acuna's 𝛿-parameter (fracture heterogeneity)
Option to use total reservoir rates and total liquid rates.
Add notes to "classical RTA" plots.

Numerical RTA: 

Be able to "lock in" LFP and OOIP.
Use of "total liquid" (oil + water) instead of only oil.
Be able to solve for xf and Nf (not only k and xf).

Production data:

Upgrade of library to provide more "excel feel".
Consolidate "UPLOAD" and "EDIT" into one option called "EDIT".
Append / delete data like in excel.

PVT: 

"Drag and drop" initial GOR to match production data.
Use of specific gravity in "Dry / Wet Gas Method".
Make process well specific.

DCA and Type Well:

Updated export to ARIES.
DCA Upgrade 2.0.
Type Well Upgrade 2.0.

Data integration:

Upgrade of whitson+ API endpoints.
Upgrade of whitson+ direct database connection process and procedures.
Snowflake integration.
The updated manual can be found here: https://manual.whitson.com/.
I would also like to take the opportunity to thank you all for the great collaboration and supporting our development.
… So, What's Next?
Fractional version of Numerical RTA.
Save cases functionality in RTA, FMB and numerical models.
Flexible data import.
Graphical smoothing of all inputted timeseries data (like with custom BHP).
GIS / map functionality.
… lots more!
Next release is scheduled for August 2022.
###
Learn more about our software products
Global
Curtis Hays Whitson
curtishays@whitson.com
Asia-Pacific
Kameshwar Singh
singh@whitson.com
Middle East
Ahmad Alavian
alavian@whitson.com
Americas
Mathias Lia Carlsen
carlsen@whitson.com
About whitson
whitson supports energy companies, oil services companies, investors and government organizations with expertise and expansive analysis within PVT, gas condensate reservoirs and gas-based EOR. Our coverage ranges from R&D based industry studies to detailed due diligence, transaction or court case projects. We help our clients find the best possible answers to complex questions and assist them in the successful decision-making on technical challenges. We do this through a continuous, transparent dialog with our clients – before, during and after our engagement. The company was founded by Dr. Curtis Hays Whitson in 1988 and is a Norwegian corporation located in Trondheim, Norway, with local presence in USA, Middle East, India and Indonesia