Software Built for
Practicing Petroleum Professionals
Everything needed in one solution
Request Quote
PVT & Phase Behavior
PVT has an impact on essentially every discipline in the petroleum domain. However, utilizing and accessing PVT information can be costly, impractical and time-consuming. whitsonPVT streamlines the access to both PVT data and models throughout an organization. Every PVT report, black oil table, fluid initialization model or gas-EOR calculation is centralized in one place. We like to think about it as a living document for PVT data and models that ensures consistency and enables collaboration across an organization.
Key Features

Fluid definition from limited field data (API & GOR)
BO Table Generation and Extrapolation
BOT and EOS Model Export to Any Platform
Gas EOR Module (Miscibility, Huff-n-Puff)
Database of PVT Reports, Sampling & Fluid Storage
Production Data Diagnostics
Generate daily wellstream compositions based on readily available field-measured data, leveraging an EOS model. These wellstream compositions are used for multiple relevant engineering calculations, such as separator shrinkage factor calculations (sales oil recovery factor), converting GORs for changing separator conditions, and separator process optimization. Other engineering applications include the analysis of emissions & air quality, well classification (for royalty & tax purposes), as well as the correct allocation of sales products to individual wells. 
Key Features

Compositional Tracking
Separator Oil Shrinkage (Sales Oil Volume)
Common Process Conversion
Separator Optimization
Gas Condensate Diagnostics
Pipeflow Calculations
Bottomhole pressures are required in many reservoir- and production engineering aspects, such as history matching, RTA/PTA, IPR estimation, and more. Based on production data measured at the surface (i.e. surface rates, and wellhead pressure and temperature), and key properties describing the wellbore (i.e. a deviation survey describing the curvilinear shape of the well, wellbore diameter, and pipe roughness), we can estimate the bottomhole pressure through several commonly used correlations.
Key Features

Multiphase flow wellbore calculations
Multiple correlations (Beggs and Brill, Hagedorn and Brown, Gray, Woldesamayat and Ghajar)
Uncertainty range of BHP calculation based on different correlations
Consistent handling of shut-well BHP calculation
Production Data Analysis
Don't settle for tools that take shortcuts! whitsonRS enables reservoir characterization for all wells in a "shale basin", by leveraging a full-physics numerical simulator, consistent, field-specific PVT models and cloud computing technologies. Perform numerically assisted RTA, history matching and forecasting – all in one, seamless solution, with "click-of-a-button" access to everyone in your organization. Share, collaborate and discuss! 
Key Features

Numerically-Assisted RTA (Rate-Transient Analysis)
Full-physics Numerical Simulation
History-Matching & Forecasting
Multi-layer & Multi-fluid Models
End-to-End Solution
All analysis in one place
Simplify complex workflows
Obtain answers in a fast and practical manner
Export to third-party platforms when needed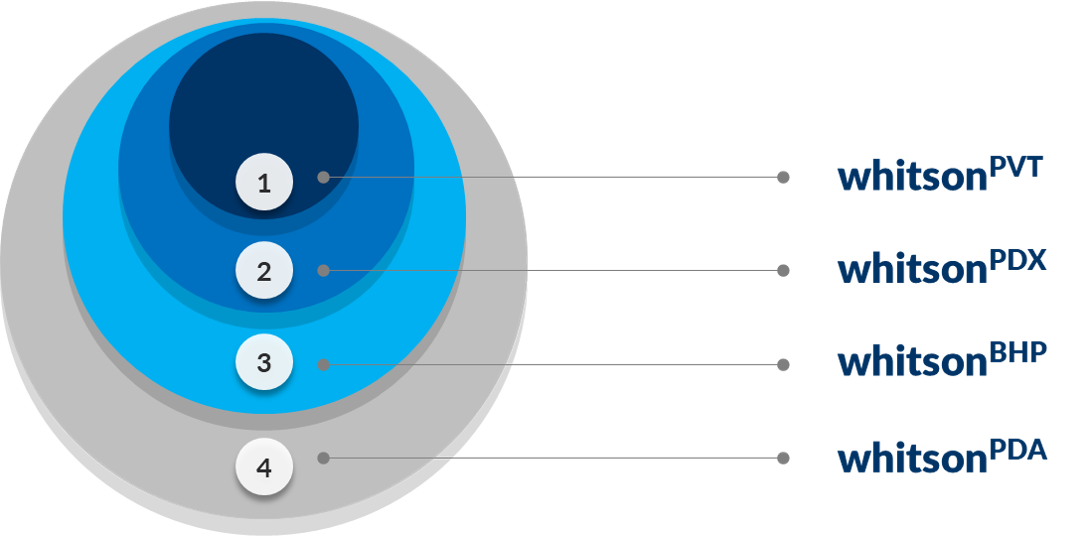 A Living Document
Dynamic Document, Continously Updated
Shared Across Organizations
Centralized Location for Data and Models
Version control of models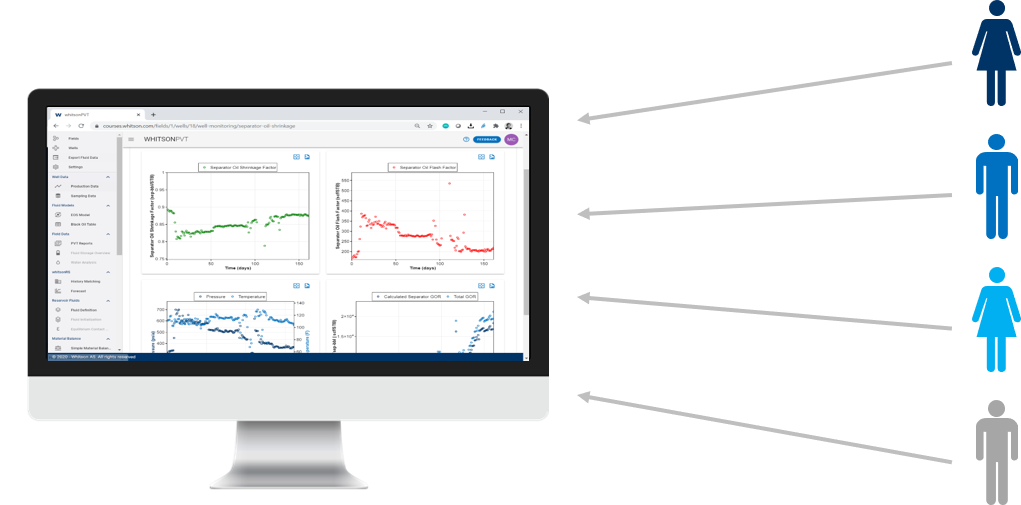 Flexible API Integration
Plug our API into already existing databases and solutions
Integrate with third-party software
Two-way machine-to-machine dataflow
Move away from document-driven, standalone desktop applications
Simple & Affordable Business Model
Cloud-based system, accessed from your browser
Access to everyone in the organization
No additional cost per seat and/or node
Annual corporate-wide subscription