We're happy to share the latest release of whitson+, fresh out of the coding oven. There is a lot of new functionality in this release, and we've highlighted the main ones in this video https://youtu.be/6vvd53W5jWE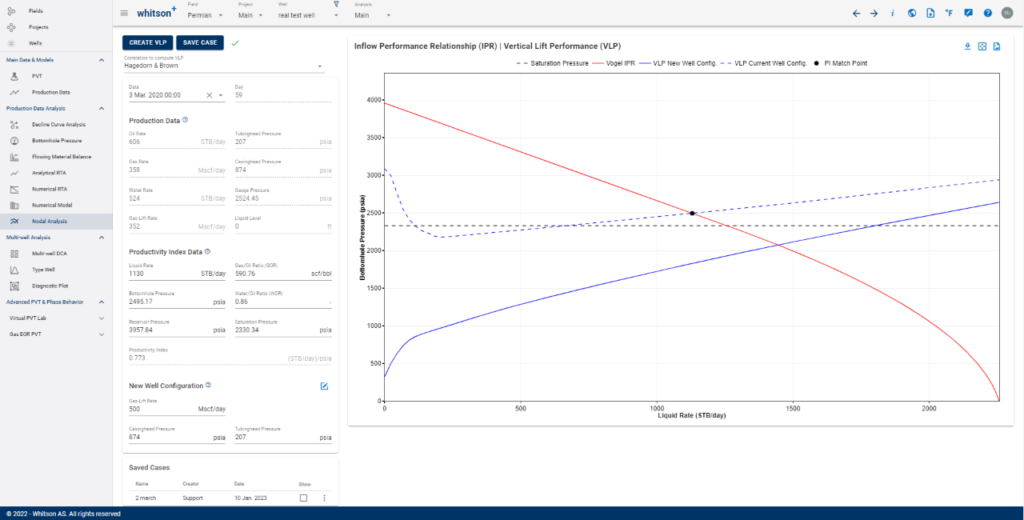 whitson+ – comprehensive software updates list
Nodal Analysis

Calculate VLPs and Vogel IPRs
Compare well bore configurations
Integrated with bottomhole pressure and flowing material balance feature.

Chow Pressure Group

Easily drag and drop put on production (PoP) line.
Calculate Δp, Δp' and CPG
Drag and drop CPG interpretation

DCA & Type Well Upgrade

Upgraded drag-and-drop functionality
Lasso fit
Multi-segment capabilities (1.0).
More functionality will be pushed as hotfixes in the coming weeks.

Grouping & Filtering

Group well by attribute (e.g. pad name, reservoir)
Filter by group or condition (e.g. reservoir temperature and pressure).
Easily filter on this in the well dropdown.

Custom Attributes

Add custom text, date or number as database values for a well.
Calculate the custom property dynamically based on different inputs.

Production Data Upgrade

Different interface when uploading stock tank rates vs separator rates.
Enforce calculation of separator shrinkage when uploading separator rates.
Only show the compositional tracking, separator oil shrinkage and common process conversion features when a well has separator rates.

GIS 2.0

Upload and save shape files
Group wells

Multi-well Diagnostic Plot

Auto spread coloring.
More default templates.
Change all timeseries at the same time.
Updated frontend (easier to navigate between wells).
Plot of total reservoir, total liquid and water PNR/RNP.
Plot drawdown vs. time.

BHP Upgrade

More flexibility in setting artificial lift calculation settings for when liquid levels, gauge pressures and gas lift rates are not available.
Explicitly edit water viscosity.
Bulk export tuned BHP parameters (liquid hold-up and friction factor).
30% speed increase for bhp calculations.

Data integration

Upgrade of whitson+ API endpoints.
Upgrade of whitson+ direct database connection process and procedures.
Snowflake integration.

Other

Numerical RTA interface updated for dry gases
Speed increase of dry gas flowing material balance (FMB)
Dynamically set infinite acting (IA) tank size in numerical RTA.
Use of water phase in analytical RTA.

+lots more!
The updated manual can be found here: https://manual.whitson.com/.
I would also like to take the opportunity to thank you all for the great collaboration and supporting our development.
… So, What's Next?
General performance upgrade (lots of wells & datapoints)
Generation of tubing tables
Well control: surface pressures
Silent side BHP calculation
Multi-well numerical model
DFIT interpretation
+ lots more!
Next release is scheduled for May 2023.
###
Contact carlsen@whitson.com to learn more about our software products.
Global
Curtis Hays Whitson
curtishays@whitson.com
Asia-Pacific
Kameshwar Singh
singh@whitson.com
Middle East
Ahmad Alavian
alavian@whitson.com
Americas
Mathias Lia Carlsen
carlsen@whitson.com
About whitson
whitson supports energy companies, oil services companies, investors and government organizations with expertise and expansive analysis within PVT, gas condensate reservoirs and gas-based EOR. Our coverage ranges from R&D based industry studies to detailed due diligence, transaction or court case projects. We help our clients find the best possible answers to complex questions and assist them in the successful decision-making on technical challenges. We do this through a continuous, transparent dialog with our clients – before, during and after our engagement. The company was founded by Dr. Curtis Hays Whitson in 1988 and is a Norwegian corporation located in Trondheim, Norway, with local presence in USA, Middle East, India and Indonesia