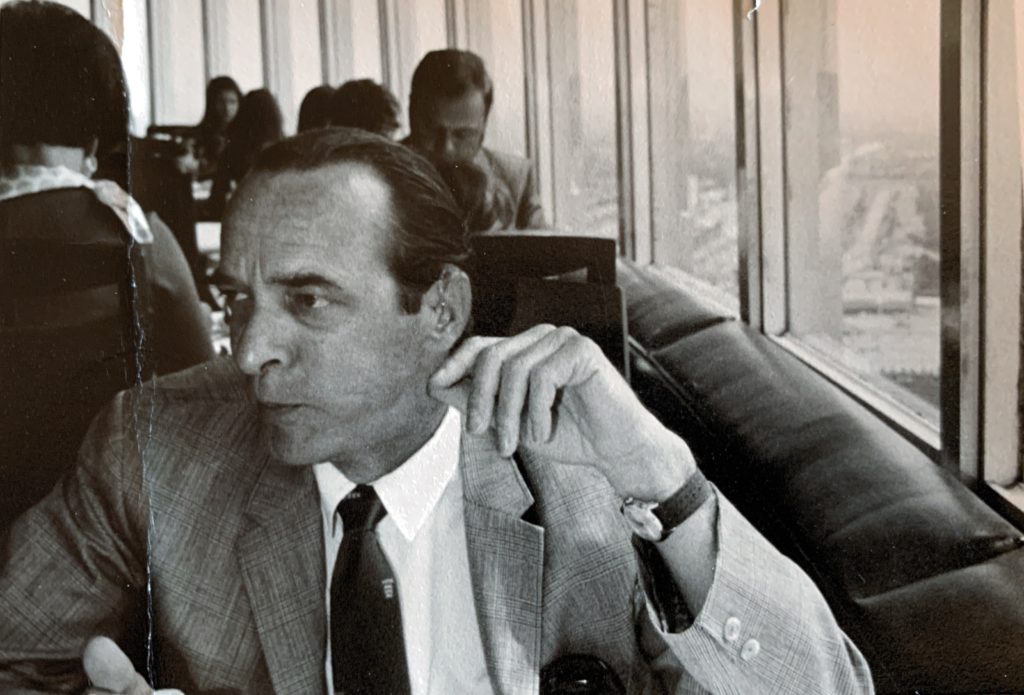 Tams Crawford Whitson (June 3, 1928 – Nov. 8, 1999) was born in Capitol Hill "packing town" Oklahoma City, lived his entire life in the Oklahoma City area, passing away at the Norman Veterans Center. He served in the U.S. Army for 2 years at the end of WWII, stationed in Anchorage Alaska. During his stay in Anchorage, he befriended a young man who's family owned a ranch in Garvin County, and he first heard about the oil business. After discharge he did HVAC service and installation until his dream of getting into the oil business became a reality.
During a six month period in the mid 1950s he spent every weekend with his partner, drilling with cable tool a shallow oil discovery that was sold after the third successful well had been completed. He used the revenues to start his family's modest life as a home owner, and he began full time self-studying all aspects of the oil business. He put together the initial leases in what became known as the NE Nahola field on his Army buddy's ranch, eventually producing (even today) more than 7 million barrels, from 2 sections in the 2nd Bromide formation.
His next drilling started in the early 1970s, Mississippi and Oswego gas wells in Alfalfa county. He drilled and operated about 15 wells. He also drilled a dry-hole Hunton test in Grant county. Next was some thirty shallow air-drilled oil and gas wells in Eastern Oklahoma, mostly Muskogee and Wagoner counties.
Tams invested and was major partner in a (short-lived, 3 year) computer-based drilling service company in the early 1970s; basically, a trailer-based automated mud logging system with then modern-day computing power.
When Curtis graduated from Stanford University in 1978 with a degree in petroleum engineering, and a dream about living overseas and doing R&D in Norway. Tams only gave him encouragement – despite what must have been his desire to have the two them working as a team doing poor-boy O&G E&P instead.
Whitson Oil Company went through bankruptcy in the late 1980s, after which Tams no longer operated actively. After a major heart attack in 1990, Tams and son Curtis started investing in wells (Caddo, Pittsburg, Latimer, and McClain counties) that were used for field research and development of liquid loading gas wells. This activity continued for about twenty-five years. It took a while, but the two Whitson's did end up working with each other, learning from each other, even if it was only for a decade.
Tams Whitson was known for his life creeds, "Never Quit", "Can't isn't an option", and "Everyone needs to feel that someone thinks they are the best at something". The creeds were passed on to Curtis who tries his best to honor his dad, and to polish the practice of showing respect and tolerance to all well-meaning folks.
###
Contact carlsen@whitson.com to learn more about our software products.
Global
Curtis Hays Whitson
curtishays@whitson.com
Asia-Pacific
Kameshwar Singh
singh@whitson.com
Middle East
Ahmad Alavian
alavian@whitson.com
Americas
Mathias Lia Carlsen
carlsen@whitson.com
About whitson
whitson supports energy companies, oil services companies, investors and government organizations with expertise and expansive analysis within PVT, gas condensate reservoirs and gas-based EOR. Our coverage ranges from R&D based industry studies to detailed due diligence, transaction or court case projects. We help our clients find the best possible answers to complex questions and assist them in the successful decision-making on technical challenges. We do this through a continuous, transparent dialog with our clients – before, during and after our engagement. The company was founded by Dr. Curtis Hays Whitson in 1988 and is a Norwegian corporation located in Trondheim, Norway, with local presence in USA, Middle East, India and Indonesia